The Corallo Hotel is located in the historic center of Sperlonga (LT).
Sperlonga is located 116 km from Rome and 114 km from Naples.
To reach the town by car from Rome take the via Pontina SS. 148 or the Appia SS. 7, to Terracina and then continue along the via Flacca, SP. 213.
Along the Rome-Naples freeway, the nearest exits to Sperlonga are Frosinone and Cassino.
By train, take the FS Rome-Naples line to the Fondi-Sperlonga station where you can continue, by public or private transport, to Sperlonga.
contacts:
Hotel Corallo
Corso S. Leone, 3
04029 Sperlonga (LT)
tel. +39 0771 548060
fax +39 0771 557450
mail: info (at) corallohotel.net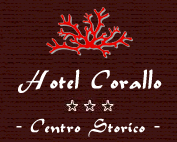 Corso San Leone, 3 (historic center)
04029 Sperlonga (LT) – Italy
info@corallohotel.net
Tel. +39 0771 548060
Fax +39 0771 557450